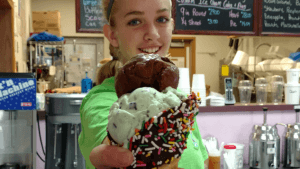 We create mouth watering ice cream inspired by the seasons. Come frequently to catch them while they are around. They are released per week until they are done.
---
August 2017 Flavor
German Chocolate Cake
Chocolate ice cream with coconut flakes, caramel swirl and fudge pieces
Freckles
Orange ice cream with dark chocolate chunks
Maple Nut
Maple ice cream with walnuts
Cappuccino Almond Fudge
Terra Verde Organic Coffee ice cream with almond pieces and fudge swirl.
Yin Yang
White chocolate ice cream with dark chocolate fudge swirls
---
July 2017 Flavors
4th of July
Tri-colored ice creams, strawberry, vanilla and bluemoon
Chunky Coconut
Creamy coconut ice cream loaded with coconut flakes.
Road Construction
Dark chocolate ice cream, with almond pieces, marshmallows and dark chocolate chunks.
Amaretto Surprise
Vanilla ice cream with chocolate amaretto cups
---
May-June 2017 Flavors
Bock N Rowlands Beer Ice Cream
Chilton's own Rowlands Bock beer with our own proprietary malt swirl. Non Alcoholic
Smores,
Sweet Cream base with graham crackers, marshmallow and chocolate swirls.
Monster Cookie
It's blue and likes oreo cookies.
Pistachio Almond,
Pistachio ice cream with pistachio and almond
Mississippi Mud,
Vanilla ice cream with butter fudge swirl with chocolate pieces.
Hummingbird Cake,
Cake Base Ice Cream with pineapple, banana and strawberry chunks, pecans and cake pieces.
Door County Cherry
Tart cherry ice cream and raisins cherries, all made with real door county cherries.
---
March 2017 Flavors
Golden Oats
Brown sugar ice cream with toasted rolled oats
Irish Cream
Irish Cream ice cream
Oh My Guinness
Yes, made with real Guinness and yes it's delicious. Non Alcoholic
Mackinac Island Fudge
Vanilla ice cream with butter fudge swirl with chocolate pieces.
---
February 2017 Flavors
Red Velvet
Red velvet cake base with frosting swirls
Peppermint Patty
Peppermint base with chocolate chunks
Chocolate Covered Raspberry Cheesecake
Cheesecake base with graham cracker crust chunks and raspberry chocolate cups
---
January 2017 Flavors
Mochatella
Coffee base with rich hazelnut and chocolate sauce swirls
Green Tea
Matcha green tea infused ice cream
White Gold
Vanilla ice cream base with creamy butterscotch, white chocolate chips, and cookie dough pieces
Chocolate Amaretto
Chocolate base ice cream with Amaretto flavoring
---
December 2016 Flavors:
Winter Wonderland
White chocolate base with peppermints and spearmints
Candy Cane
Candy Cane base with candy cane bits
Cappuccino Chip
Coffee base with chocolate toffee pieces
---
November 2016 Flavors:
Pumpkin Pie
Pumpkin base with pie crust pieces
Cranberry Walnut
Maple base with walnuts and craisins
Apple Cobbler
Apple pie  base with cookie crunch pieces
Funky Monkey
Banana base with peanut butter swirl and chocolate chips